Nitrogen Tyre Inflator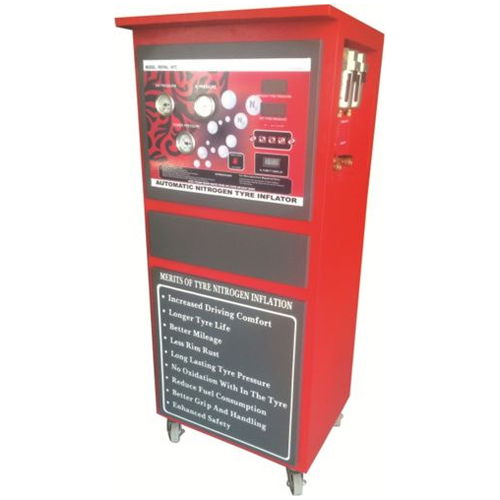 Nitrogen Tyre Inflator
Autonics Machines (India) is a well renowned as the Nitrogen Tyre Inflator Supplier based in India. Our Nitrogen Tyre Inflator is manufactured from the optimum quality raw materials to add durability and performance. Digital Nitrogen Tyre Inflator offered by us is highly appreciated for easy operation and low maintenance.
Applications:
Automobile industry
Automobile service centers
Automobile cleaning center
Automobile manufacturing units
Our Nitrogen Tyre Inflator of model no Royal - NTC is high on demand in the global markets. Its efficient features and performance have earned us a huge clientele in the markets.
Technical Specifications:
Power : 50 W
Accuracy : 1%
Nitrogen Purity : 95-99%
Input Air Pressure : 8- 10 kg / cm
Display Mode : LCD Display
Power Supply : AC22OV 5OHZ
Built-in Nitrogen Storage Tank : 85L
High Pressure Air Charge Hose : 10M
Output Nitrogen Pressure : 1 4 - 7 kg / cm
Nitrogen Producing Speed : 2000 - 4000 L/h
Selectable Output : Air or Nitrogen
Selectable Mode : Automatic or Manual
Inbuilt Tyre Counter
Seperate Nitrogen Purity Display
Double Filters for better purity
CNC Fabricated Powder Coated Body for best finish
Heavy Duty Caster Wheels for Mobility